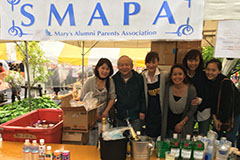 St. Mary's alumni and friends at the carnival
Register for the St. Mary's Alumni Parents Association
SMAPA is open to the parents or guardians of any boys 18 or over who have ever attended St. Mary's. Such parents and guardians can become full-fledged members free of charge. Parents and guardians with boys under 18 can become associate members at no cost.
Our aim is to help keep the St. Mary's community connected by providing periodic updates on activities that members may wish to take part in. So sign up today!
セント・メリーズ・アルミナイ・ペアレンツ・アソシエーション(SMAPA)へようこそ!
SMAPAはセント・メリーズに在籍していた18歳以上の男子生徒のご両親そして保護者の為の会です。その方達は無料で正会員となります。18歳未満の男子生徒のご両親そして保護者の方々は準会員となります。
この会の趣旨は、会員の方々が参加できる学校の催し物を定期的にお知らせする事で、セント・メリーズ関係者の繋がりをサポートすることです。今すぐ会員登録を!